Review | I took the RODE VideoMicro microphone along with the FujiFilm X-T20 camera to Papua New Guinea for a real life travel trial.
I compared the compact RODE VideoMicro against the FujiFilm X-T20 built in mic in outdoors and indoor scenario… at the river, at the beach, around town and watching an incredible bamboo band! This is an independent review by Adam Constanza of Travel Inspired – www.travelinspired.co.nz – I am in no way associated or sponsored by RODE.
Visit and subscribe to my YouTube Channel today. Simply click on the link, hit SUBSCRIBE, easy! You can now watch all my new videos as they are published.
Music: Good For You by THBD https://soundcloud.com/thbdsultan
---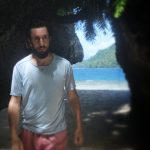 Adam Constanza – Freelance Travel Writer | A Wellingtonian Goes Off The Beaten Track
Website:     https://www.travelinspired.co.nz
Facebook:  https://www.facebook.com/travelinspiredone
Instagram: https://www.instagram.com/travelinspiredone
Youtube:    Travel Inspired YouTube Channel
Got a Question? Want to say Hi? Collaborate on a Project? Flick me a message: travelinspired1@gmail.com
Remember to SUBSCRIBE to my YouTube Channel today!