An action-packed daily vlog series bought to you by Adam Constanza and Ashlee Gross during their adventures in Pohnpei, Micronesia. In this mini episode we walk and swim the Six Waterfalls Hike, which is a must do for any avid walkers visiting the island of Pohnpei. There aren't many hikes that you get to see six waterfalls within 6 hours!
Visit and subscribe to my YouTube Channel today. Simply click on the link, hit SUBSCRIBE!
---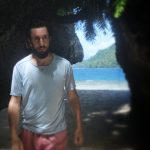 Adam Constanza – Freelance travel writer, photographer and content creator
Website:     https://www.travelinspired.co.nz
Facebook:  https://www.facebook.com/travelinspiredone
Instagram: https://www.instagram.com/travelinspiredone
Youtube:    Travel Inspired YouTube Channel
Got a Question? Want to say Hi? Collaborate on a Project? Flick me a message: travelinspired1@gmail.com
Hit SUBSCRIBE on my YouTube Channel today and don't miss any of the new videos!